LinkedIn is a popular social media platform for working professionals and businesses to share work-oriented content.
Although designed as a place to build professional networks, it's becoming a popular content-sharing platform.
The good thing is that LinkedIn provides an in-built analytics tool to track the reach and performance of your published content.
However, advanced LinkedIn analytics tools offer deeper insights compared to built-in analytics. This article will unlock some popular LinkedIn analytics tools that help you craft a better content marketing strategy.
What are LinkedIn Analytics Tools?
LinkedIn Analytics tools give you visual insights into LinkedIn pages and lets you measure results quickly. By tracking key KPIs, such as traffic, engagement, follower growth, CTR, CPC, and more, you can make data-driven decisions.
As mentioned earlier, LinkedIn is gaining popularity as a content-sharing platform, and its built-in analytics dashboard tracks your content performance. However, the insights you get from the default LinkedIn analytics dashboard are abstract, and you cannot craft a firm strategy based on the data available.
That's where LinkedIn Analytics tools come into the picture. These tools dedicatedly provide real-time data on key engagement metrics like CTR, top-performing posts, follower demographics, impressions, clicks, follower count, and number of page views.
Importance of LinkedIn Analytics Tools
If you're a B2B marketer relying on content for brand awareness, demand generation, and inbound sales, you need performance data. It helps you identify your audience persona and understand how people respond to your content.
Here are a few reasons why you need LinkedIn tools:
✅ Understanding Customer: LinkedIn analytics tools provide valuable insights on post views, post comments, post shares, follower growth, and CTRs. These insights help you understand your audience preferences and what content works for you.
✅ Content Optimization: Data analytics tools help you identify which type of topics generate more engagement and likes. This way, you can optimize your content strategy to match your audience's needs.
✅ Checking ROI: By providing close to real metric numbers, LinkedIn analytics tools help you measure the return on investment for your campaigns. This data helps you assess the budget allocated and whether the outcomes that you're getting are balanced or need revisions.
✅ Better Reporting: Since you get data for different metrics within dashboards, you can easily share your reports and dashboards with your marketing team.
Now, Let's explore top LinkedIn analytics tools.
LinkedIn Analytics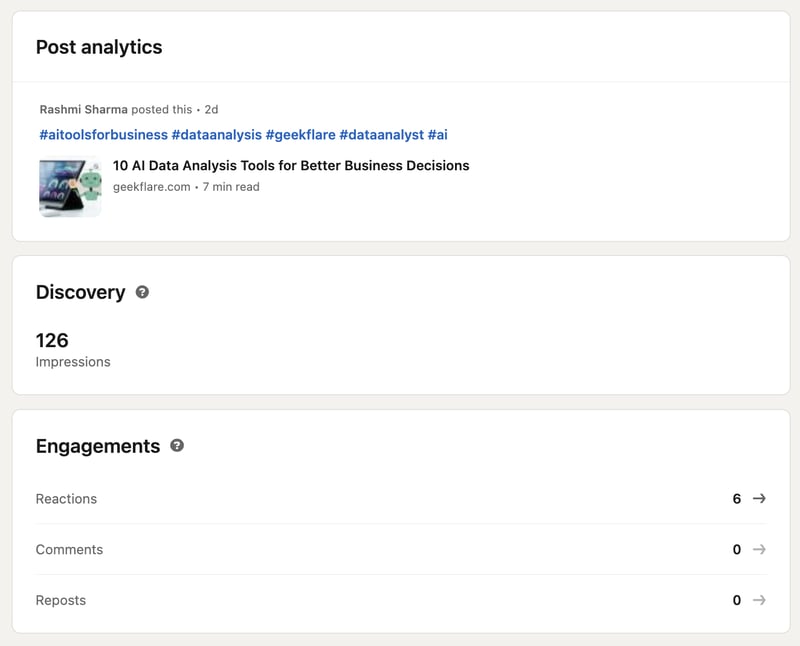 LinkedIn has a free analytics tool that measures the effectiveness of your social strategy or ad performance. The LinkedIn analytics tool provides information to social media managers, marketers, and content creators to understand your audience and the type of content they engage with most.
Within LinkedIn, you can measure the visitor demographics metrics like job sector and engagement on your posts like impressions, clicks, comments, and follower growth. You can track your conversion ROI, such as conversion rate, cost per conversion, and conversion value, and evaluate the effectiveness of your campaigns.
Although LinkedIn's native analytics dashboard is a good starting point for analyzing LinkedIn campaigns, marketing agencies managing multiple clients may find it less efficient. It offers limited customization settings for creating reports and does not integrate with other social media data.
The native LinkedIn analytics dashboard doesn't have the option for automatic report scheduling, making it difficult to handle multiple clients. To overcome these limitations, we have mentioned better third-party LinkedIn analytics tools to help you with comprehensive analysis and reporting.
Inlytics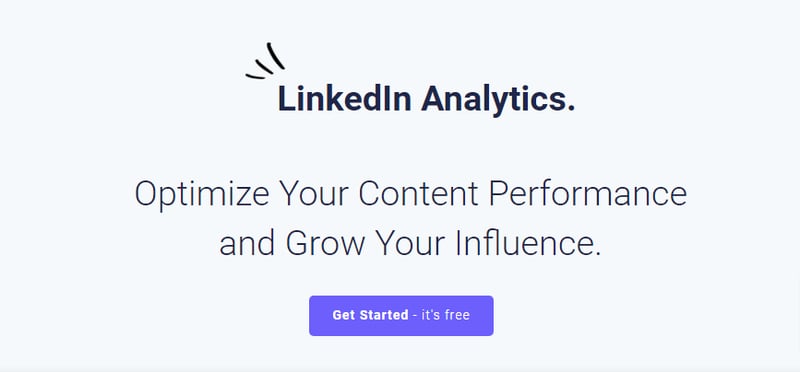 Inlytics is a leading marketing analytics platform that helps you measure the performance of your LinkedIn publications. It's a good tool for anyone who wants to understand their LinkedIn presence and get clarity on the type of content they should publish.
With Inlytics, you get a clear view of the type of content that gets more engagement from your network. A distinguishing factor is that it's good at providing historical data for your old posts and engagements in a single dashboard.
Inlytics real-time analytics dashboard is intuitive and easy to understand. You can check the number of impressions, views, reactions to your posts, comments, and engagement rate.
The dashboard also has a timeline content table that gives you a visual representation of your content performance. You can see the exact time when you get the most number of impressions, likes, or comments on your posts. For making interpretations easier, Inlytics offers colored visualization.
Klipfolio
Klipfolio is a business intelligence tool that connects to different data sources and helps you create interactive dashboards. It helps businesses visualize the data in the form of charts, graphs, and reports to make better business decisions.
Klipfolio's Powermetrics dashboard helps you track your data in an advanced way other than LinkedIn's in-app analytics tool. It allows you to combine LinkedIn data with your data from other marketing platforms like Facebook, Instagram, and Twitter.
The refresh rate in Powermetrics is higher, so you get the most up-to-date information. It's crucial if you're handling several accounts with a good follower base. You can connect Powermetrics to Google Analytics and share the dashboard with your teammates and stakeholders.
Dripify
With Dripify, you can automate LinkedIn prospecting for your sales team and close more deals. By creating drip email campaigns, you can build a personalized sales funnel with automated responses.
Dripify's LinkedIn analytics dashboard helps you keep track of all the metrics like new connection requests, unread messages, and profile views from a single dashboard. You also have the option to review your action timeline to get a gist of the activities on your LinkedIn profile.
You can evaluate the performance of your Dripify campaigns in a detailed LinkedIn report. There are features to analyze the invitation acceptance rate, response rate, and other vital metrics and compare them to the previous period.
Vaizle
Vaizle is an analytics software that allows you to analyze social media in real-time and get key insights as fast as possible. With the help of social media audit reports, you can track past performance, create strategies against competitors and perform better competitive analysis.
With Vaizle's free analytics tool, you can track important LinkedIn metrics like post engagement, likes, impressions, and follower demographics. Additionally, you can also track other metrics like video views, click-through rates, and profile visitors to track the performance of your LinkedIn posts.
Vaizle also has a profile analysis tool that helps you understand your audience by their job title, industry, seniority, location, and which devices drive more engagements to your profile. You can use this information to create similar content and connect with the right audience.
ReportGarden
ReportGarden lets you customize marketing dashboards and automate analytics reporting, saving a lot of time. It's an effective way to analyze LinkedIn performance, interactions and do follower analysis.
The platform lets you identify post-engagement metrics and influencers interacting with your content. For example, you get a page-level analysis of the number of impressions, clicks, interactions, and followers acquired to make better business decisions.
ReportGarden also enables you to measure company follower metrics of all the posts in the form of a single consolidated report. In this way, you get to know your audience demographics like their seniority, type of industry, size of the companies they are employed with, and more.
Finally, you can combine all these essential analysis metrics and create a detailed report using readymade templates provided by ReportGarden.
OctopusCRM

OctopusCRM is an automation tool that helps simplify business prospecting tasks and grow awareness on LinkedIn. The platform is 100% compatible with Free LinkedIn, LinkedIn Premium, Sales Navigator, and Recruiter.
OctopusCRM's LinkedIn automation feature allows you to monitor relevant metrics like profile views, search appearances, and social selling index. You can enable Octopus CRM LinkedIn automation to track your LinkedIn performance and notify you as soon as excessive LinkedIn activity is detected.
Through OctopusCRM's LinkedIn profile analytics tool, you can see the number of connections and pending invites you have at the moment, the number of views compared to the previous week, the social selling index, and more.
Taplio